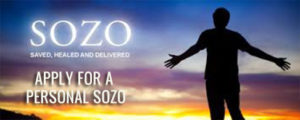 Bethel Sozo is not a counselling session but a time of interacting with Father, Son and Holy Spirit for wholeness and pursuing of your destiny.
The Bethel Sozo ministry is a unique inner healing and deliverance ministry in which the main aim is to get to the root of those things hindering a great personal connection with God the Father, God the Son and God the Holy Spirit.
We understand that life experiences can leave deep wounds or emotional hurts. We also know that no matter how close our relationship with Father God is, we can get closer still if these strongholds are removed, truth revealed and healing takes place.
If you would like a personal Bethel Sozo ministry time, please click the Apply for a Personal Bethel Sozo link below and fill in the application form.
APPLY FOR A PERSONAL BETHEL SOZO SESSION
As soon as we receive your forms, we will send you possible dates and times available for your personal Bethel Sozo session. Sessions can run from 1 – 2 hours and are conducted by two team members. The Sozo team will sit down with you and with the help of the Holy Spirit walk you through the process of freedom and wholeness.
For more information contact us at;

10 Norman Williams Street,
off Keffi Street, Ikoyi,
Lagos, Nigeria.
Email:
info@bethelsozonetworknigeria.org
support@bethelsozonetworknigeria.org


Telephone:
+2348167476969
+2347034371401

Website: www.bethelsozonetworknigeria.org